"I love the tool, but I could really benefit from some guidance on how and where to start."
This is the type of feedback we have been receiving from our Brili community often. We feel those concerns, and we strive to provide you with more knowledge around routines and their habituation to increase your confidence in navigating through your day.
Since these and similar requests often come from parents of children with ADHD, we reached out to an amazing company called WellRoo that can help bridge this gap. We're pleased to announce that WellRoo and Brili will be teaming up in the coming months to help parents make personalized and structured routines.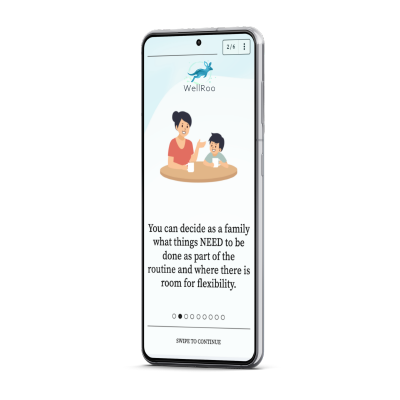 Founded by Dr. Steph Peters, a clinical psychologist, WellRoo offers online self-guided parenting strategies for common behavior concerns. WellRoo's online courses can be done in minutes a day so families can start learning right away. WellRoo's bite-sized strategies can be easily integrated into your day-to-day life with your child.
How do WellRoo and Brili aim to help you and your kids with ADHD?
The American Academy of Pediatrics' (AAP) healthychildren.org shares that keeping your child on a daily schedule can help manage behavior concerns. However, completing the daily schedule and finishing tasks can sometimes feel like pushing a rock uphill for families. So we know that setting your child's environment up for success is key, and can be especially important for kids with ADHD.
Both WellRoo and Brili aim to make it easier for you to guide your children toward a more positive relationship.

WellRoo teaches parents commonly recommended strategies to boost the positive child behaviors parents want to see more. Their course options include short lessons that specifically address morning and bedtime routine behavior challenges and ideas for improvement. Brili can then help implement these successful routine ideas, including:
· Consistency for your daily schedules
· Structure for rewarding behaviors you want to see more
· "Baby steps" toward bigger steps
· In-the-moment reminders to help guide child behaviors
· Checklists to help you and your child track progress together.
Dr. Steph Peters explains the reason for our collaboration: "Strategies like positive reinforcement, including effective praise, and logical behavior consequences have been shown to reduce challenging child behaviors...but it is typically not easy for parents to find examples or tools that easily help them put them into practice. Brili's solution is designed to help parents implement the routine strategies taught in WellRoo's programs, including helping children follow instructions and stay on task through consistent in-the-moment reminders and positive feedback."
Stay tuned for details around our upcoming collaboration – WellRoo/Brili Bitesize webinars and other resources are coming very soon!
Some References: