Where do you find the most sense of community or relatability around your ADHD?
When dealing with mental health issues, there are two things that anyone affected can benefit from greatly: Having someone by your side who is caring, kind, and supportive and knowing that you are not the only one in this situation.
That sense of community, of shared experience is essentially all about feeling connected to other individuals who find themselves in a similar situation, are facing similar challenges, and are willing to share these with others to overcome that feeling of isolation and loneliness.
There are different ways to find that sense of community, allowing you to be yourself, to feel accepted and feel supported.
In our recent Brili Mini Survey, we asked you to share with us where you find the most sense of community or relatability around your ADHD and here's how the 500+ participants have answered: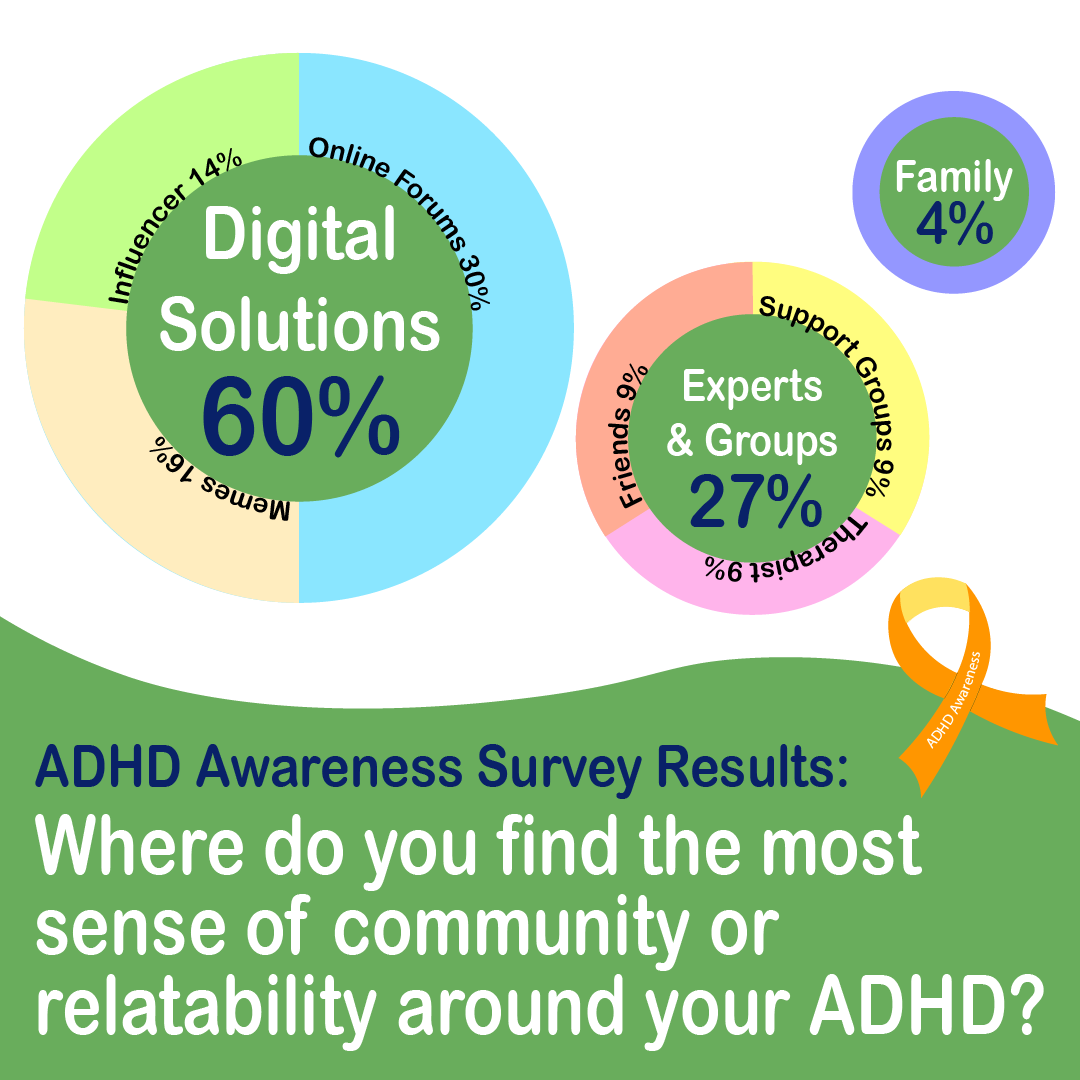 With over 30%, Online forums are the most valued source of relatability regarding your ADHD, followed by Memes (16%) and Influencers (14%).
Interesting enough, these are all digital sources, allowing the community to interact, comment, and discuss specific topics around ADHD while having full control over how much of their identity they are ready to disclose.
With around 9% each, Therapists, Support groups and Friends seem to be equally popular ways to share your experiences of living a life with ADHD.
Turning to these professionals or ADHD groups requires more self-reflection and openness about your mental health situation but may also provide a stronger sense of belonging and a more specific support.
With only 4%, Family turns out to be the least popular source of belonging and support regarding ADHD.
That's somewhat surprising when considering that ADHD has a genetic component meaning it's very likely that someone else in your family is affected, too. On the other hand, adults are still widely under-diagnosed and especially the older generation might often be unaware or skeptical of such conditions.
Every ADHDer may find their situation very unique but the shared experience of millions of individuals with ADHD and other mental health conditions may hopefully help you to find that sense of community which provides so many beneficial aspects: feeling appreciated for who you are, knowing there's someone to turn to when you need support, and eventually finding purpose in helping others who are in a similar situation.
Still looking for a supportive group? Join our Brili community, share your experiences, ask for support and discuss with ADHD experts. It's free but priceless.