There are many resources scattered across the internet from smartphone applications like Brili to interactive communities, accountability partner Zoom meetings and of course in person professional support. But what resource is most valuable?
In our most recent survey, this was a multiple choice question and the participants' answers valued all available resources in the same range. However some stood out. Here is each answer ranked by the percent of respondents that chose them.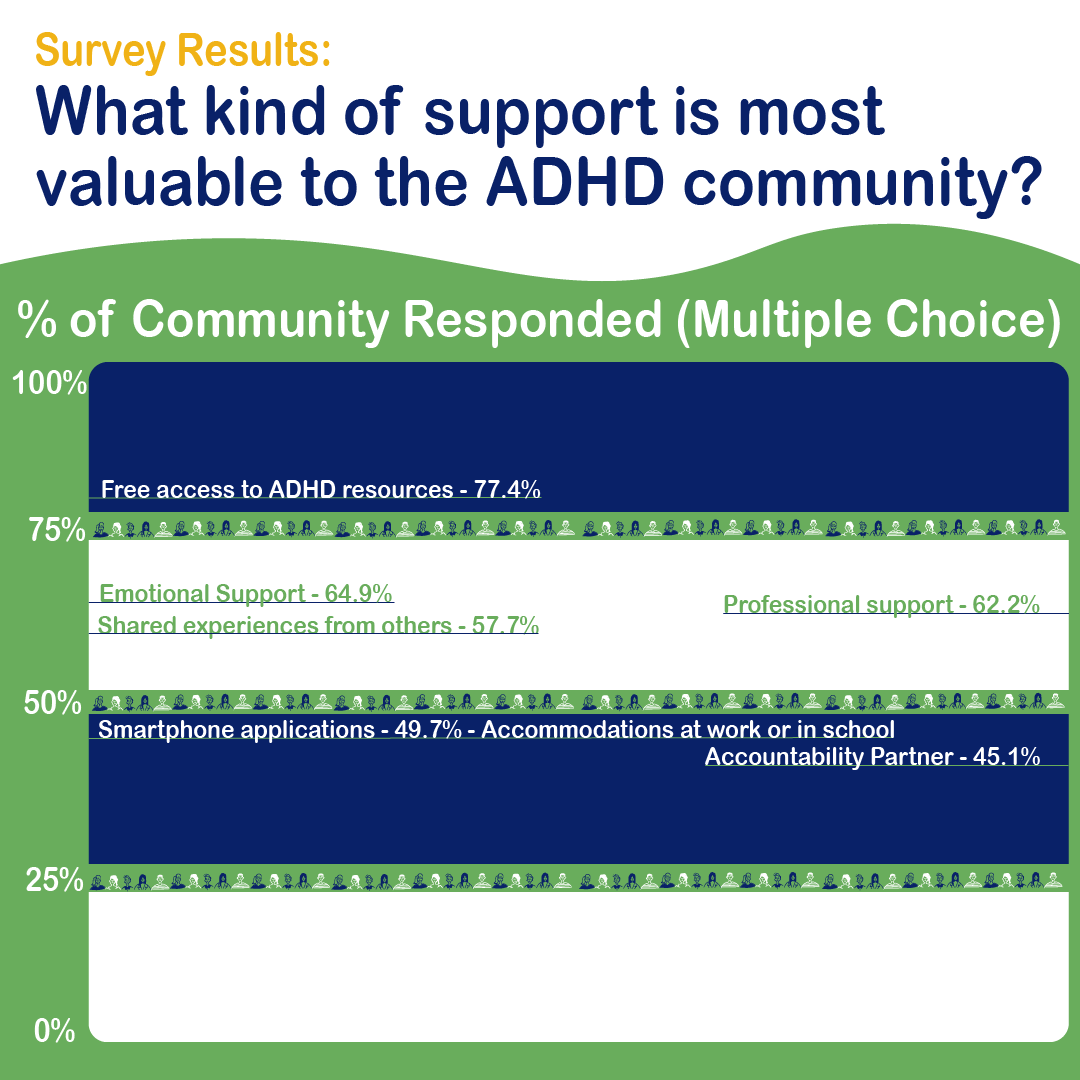 Free access to ADHD resources takes the cake as the most valued resource by the community. We all can agree that free is almost always the best price to get something for, not to mention the inclusivity that free resources provide.
Second and third ranked in this bunch are emotional support from your family or friends and professional support being provided by a Therapist or Psychiatrist. It is great to see how highly people value these resources but coupled with last week's results this spells a graver situation:
Although emotional support and professional support are valued so highly, only 4% of respondents find support from their family, 9% from their friends and another 9% from professional help. Although these resources are the most valued, they are amongst the least provided.
Shared experience from others takes 4th in importance. It is easy to see online how many people relate to the stories expressed by influencers and community leaders in the online ADHD space. You are most welcome to share your story as well in our community Journey2ADHD, which you can join here for free.
Tied for 5th and 6th place with about 50% each are smartphone applications and accommodations at work and school. We here at Brili strive for holistic support through tools, knowledge and interaction to assist the community in their day to day lives.
Accommodations at school and work are incredibly important and entirely under provided around the world. The kicker is, everyone stands to gain from more inclusive and aware school and work environments that provide resources and techniques for neurodivergent individuals to thrive. Let's work towards building this awareness together.
Last but not least, accountability partners were ranked amongst 45% of respondents' most valuable resources. Check out the accountability groups in our community, they do weekly Zoom work sessions!
We did not only collect data, we collected statements too!
To the question:
What do you wish the people around you would understand and respect about your ADHD?
Anonymous Responded:
"Everyone's experience is different. Everyone's struggles are valid. Everyone deserves to feel supported. Nobody is less than anyone else in any capacity just because they need or receive any extra support."
Stay tuned for even more results to our survey and make sure to follow us on Instagram!